Dipole Radiation
Paper: Visualizing dipole radiation
Girwidz, R. V. (2016). Visualizing dipole radiation. European Journal of Physics, 37(6), 065206, pp 1-13.
http://iopscience.iop.org/article/10.1088/0143-0807/37/6/065206/meta
Multimedia program
This program offer various options to show characteristics about dipole radiation (Herzian dipole and half-wave dipole). Multiple representations and combined illustrations are used to give insight into spatial and temporal characteristics of field distributions and the flow of energy.
Videoclips created from "DipoleRadiation"
Special topics are:
Radiation pattern and structure of the electromagnetic field
Detachment of field lines and generation of closed loops
Field lines of E and H in three dimensional pictures and animations
Near field and far field, phase relationship between E and H
Flow of energy, illustrations with Poynting vectors
Half wave dipole in contrast to a Hertzian dipole
Electric field lines seen as contour lines of a potential function.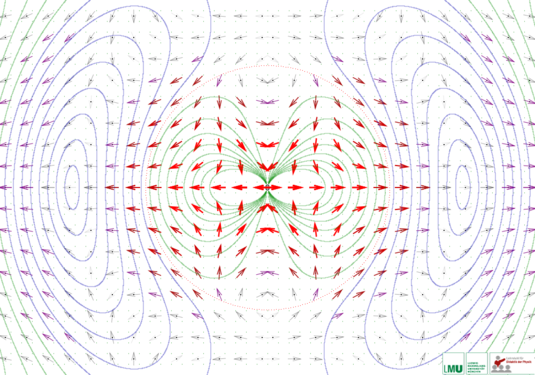 Snapshot showing electric field lines of a Hertzian dipole and the flow of energy.

---
Downloads (for teaching or for devices with low computing power, e.g. smartphones):